Read Time:
6 Minute, 44 Second
In its purest form, needle lace is simply a group of stitches worked either on themselves or a ground (either fabric or mesh), using only a needle, thread, and scissors. Needle lace is some of the finest needlework that can be done, and it has some of the most complex histories within fine fiber arts. From schools of lace in Ireland to the language of flowers in Turkey, needle lace has depicted motifs from across the world in a language of fabric and thread. If you decide you'd like to try to learn how to make needle lace, drop a comment below, and I'd love to help you learn!
What is the Difference Between Needle Lace and Other Laces?
There are many types of laces, including bobbin lace, tape lace, crocheted lace, tatting, macrame, punto a groppo, and sprang. Each of these has a different mechanism of construction that involves either bobbins, machines, needles, hooks, or creating lace on a separate mesh ground fabric.
Needle lace is a group of laces that can be made with just needle and thread and then applied to other fabrics when completed. They include filet lace, Punto in Aria, Alencon, Armenian, Halas lace, Point de Gaze, Kenmare Lace, Oya, Pag, Carrickmacross, Buratto, Reticella, Limerick, and others. Each lace can be constructed by using the lace thread to create a mesh, and then building upon that mesh with other stitches, most commonly a buttonhole stitch, or other embroidery stitches.
Most laces are associated with the region where they are constructed, and many regions have their own, unique motifs that reflect the world around them. Oya uses flowers which are found all over Turkey, and each flower has specific meanings. Irish lace incorporates shamrocks, leaves, flowers, birds, and other animals and plants found on the island. Some intricate French laces incorporated mirrored swirls, horns, and loops, which reflected each other around the piece, but had no specific reference to plants or animals. The repeating intricacy is nevertheless beautiful and unique!
Pure Forms of Lace
In the purest form of lacework, the needle, thread, and scissors are the only tools needed. Armenian lace is an example of this, using a beginning circle and buttonhole stitches to create lovely round motifs. A number of the motifs can be connected with buttonhole mesh to create larger pieces, and the patterns used within the designs have names that reference important symbols, such as Mount Ararat.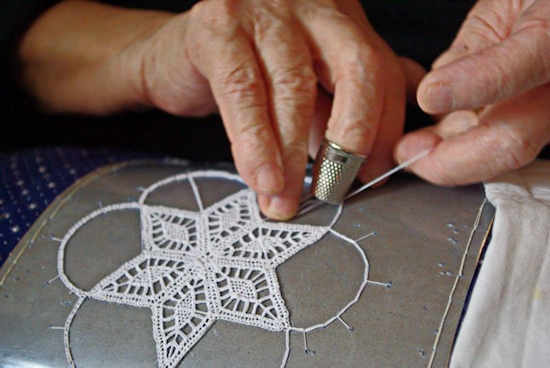 Pag is similar to Armenian needle lace in that the motifs are passed on through traditions, and the results are beautiful circular patterns. However, while it is pure lace in that it is worked with only needle and thread, it is made using a pillow for backing and support. Pag is a type of Croatian lace, and the work is done without written patterns. Other Croatian laces include Hvar and Lepoglava, both named after their places of origin.
Youghal is an example of pure lace and a mystery. It was an immensely high-quality lace that disappeared after the First World War. It was taught in a school of lace in Ireland by nuns who picked apart Italian laces and then manufactured a technique to teach to young women. Youghal lace graced a court train for Queen Mary, and only a few other examples of it survived.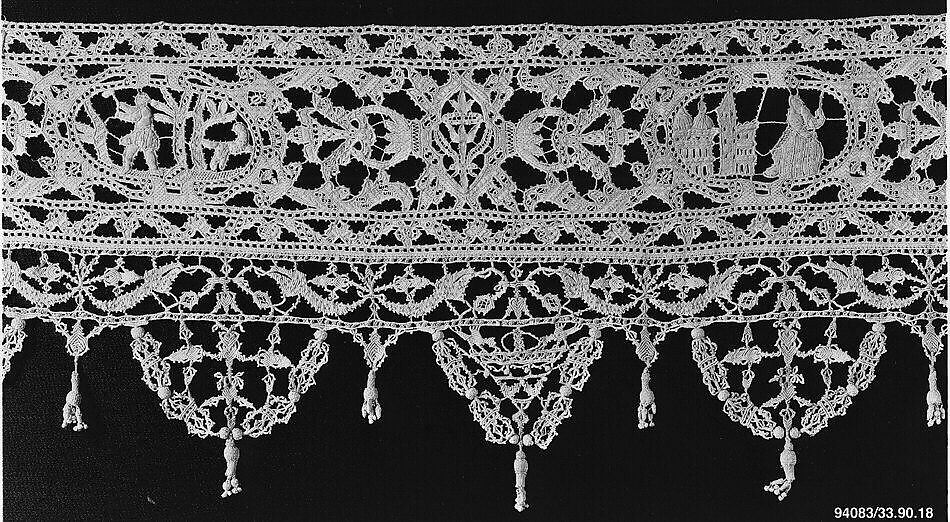 Punto in Aria, or "stitched in the air" is a blend between mesh lace and pure lace. It is meant to be stitched alone and to itself, rather than on fabric.
It is a daughter of Reticella lace, which was some of the first lace that began to remove threads from fabric. Because the thread removal made the fabric flimsy, lace makers evolved a new way to make lace, using parchment to hold the shape as they stitched. The shapes used in Punto in Aria and Reticella are similar, but because it is not limited by threads in a fabric, it is able to go beyond the geometric designs.
Woven Net and Knotted Net Lace
Filet lace is one of the more well-known types of handmade lace. It is a category itself within needle lace and refers to all lace that is worked on a base of a knotted net. It is crafted with a long, blunt needle, and worked over the holes of the net making designs and intricate patterns. The knotted lace may either be crafted by the lacemaker using buttonhole stitches, similar to fishnet crafting or can be commercially made.
Within Filet lace, the type of lace is determined by the group of stitches made. As the stitches come together, they form linen stitch, or Point de Toile, darning stitch, or Point de Reprise, or Filet Soutache, Filet Guipure, or Filet Richelieu. Regions also have distinct techniques, such as Filet di Bosa, French Filet, or Russian Filet.
In contrast, Buratto lace is worked onto a woven net ground, which creates a heavier and more solid lace than the knotted lace of filet. Another lace worked on a net is Limerick lace, from Ireland. After machine-made net fabric became available, lace makers would work the lace either with a tambour needle to bead the fabric, or a sewing needle, to add design to the fabric. The latter is called "needlerun".
Modern Needle Laces
Lace is consistently seen as more traditional handwork, although some modern artists are reclaiming the older traditions and helping them evolve into more contemporary art. You can find Oya artists on Instagram, creating beautiful bordered scarves with beads and motifs, or new lace artists in high fashion incorporating tambour and modern motif designs. Lace lends itself to evolving with the important cultural icons of the time, and while the styles may be associated with tradition, the finished products need not be.
Modern Hungarian Artist Agnes Herczeg transforms found objects and traditional lace stitches into beautiful and colorful sculptures, capturing both the industry and the contemplative nature of humanity. Catherine Barley is a modern needle artist who recreates traditional styles with more contemporary motifs. She uses both immense skill in Point de Gaze and a brilliant sense of simplicity to create striking and surprising pieces.
Can I Make Needle Lace?
YES! I use needle lace as an easy-to-transport craft to help with my anxiety. As a non-traditional student, I spend a lot of time going back and forth between classes and work. I find that keeping my fingers busy in class is a great help to keep my mind focused. It is also a hobby which doesn't require a lot of space, and you can keep it in a small bag with you. It's so much easier than when I was carrying around knitting needles and a great ball of yarn!
All you need to start needle lace is a needle, scissors, and thread. I recommend starting with crochet thread, size 10 or above – just to practice. As your fingers learn the movements, you can start using smaller thread. Armenian lace is a great place to start, and a lovely Armenian woman has created a free tutorial that you can find here. Please let me know in the comments if you've ever tried this incredible art, or if you'd like to read more about the languages of lace!