Read Time:
10 Minute, 8 Second
Let's interrupt your day of nasty headlines with one of the most beautiful things that you will see this week. I'm going to introduce you to Temari – a beautiful geometric embroidery expression that started as a children's toy. These are incredible works of art, and the kicker is that you can make one! Let's take a peek at Temari balls, their history, construction, and some modern remixes of an ancient art!
What is a Temari Ball?
Temari are from Japan, and the word itself is a blend of two words, "te", meaning "hand", and "mari", meaning "ball". This is an ancient folk art form with both beautiful history and a poignant present.
The history of Temari is said to be inspired by Kemari, which is a game similar to kickball or soccer and which originated in China during the Asuka period – 538 AD to 710 AD. The balls originally were made from deer hide. During the Edo period in Japan (1603-1867), the women of the royal court in Japan adopted the little ball game for their own use and began to make the balls brightly colored for young women out of silk cloth and threads. The game then became less aggressive, tending towards rolling or tossing, and a new name, "Temari" was given.
Women used their skills in embroidery and fiber arts to create more beautiful and complex Temari, using silk thread, gold, and silver to embellish their beautiful little tokens. These beautifully complex works of art that developed began to become a social commodity, given as gifts and cherished as an art form. Much like how Sashiko embroidery developed from the necessity of lower classes, Temari transformed a game of deerhide kickball into an art form of unparalleled geometry and skill, but started its journey in the higher echelons of society. First stitched with silk thread, then with cotton, linen,and wool, as industrial textile production became more common, Temari became part of culture across economic lines in Japan.
The beautiful little balls became both favorite toys, and much like Sashiko, representative of the skill and styles of local cultures. Temari are made from scraps, used materials, discarded clothing or household items. In Sashiko embroidery, every piece of cloth and thread was used, saved, and reused. Temari were originally made with whatever was to hand, but the structure remains similar.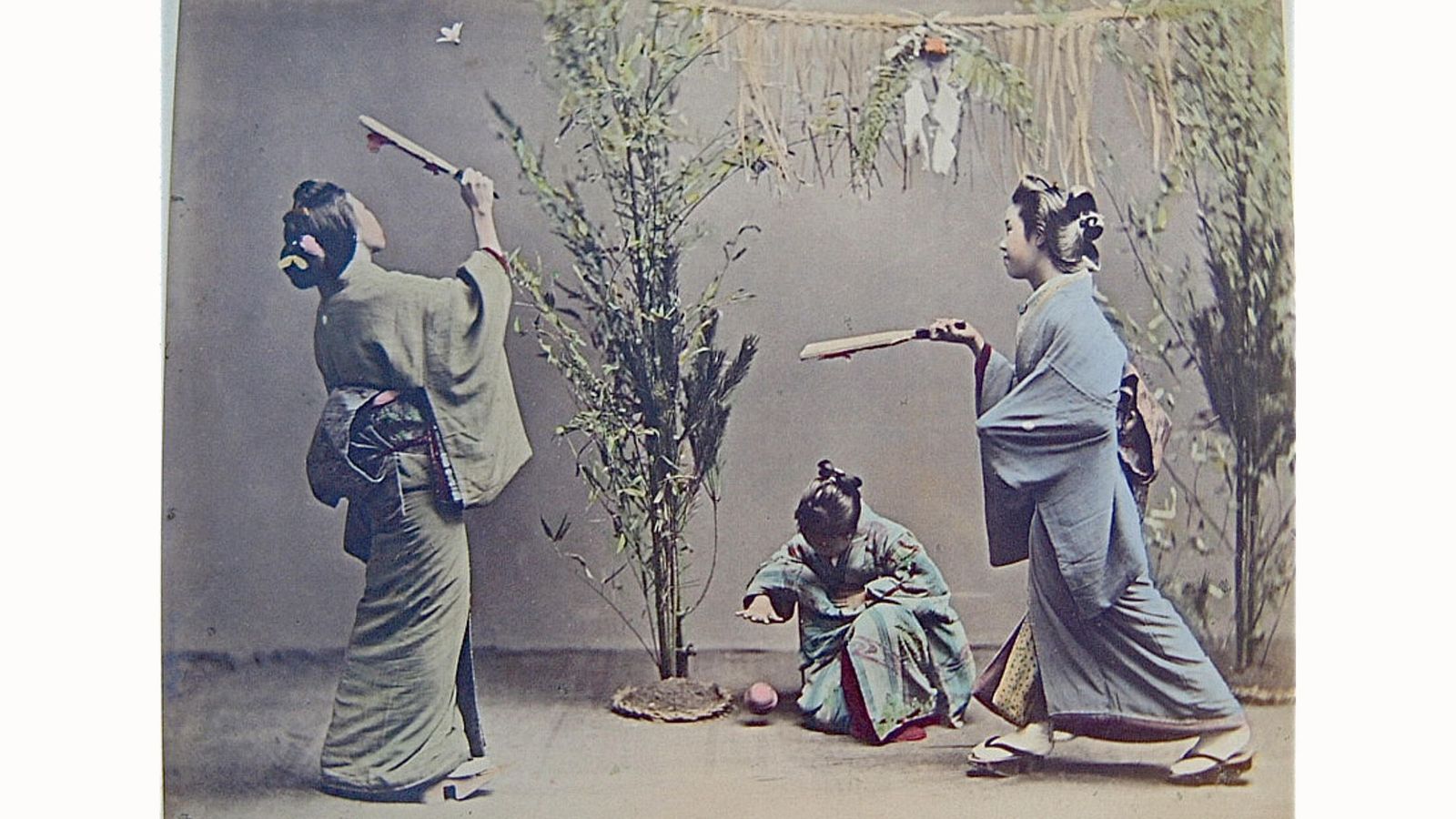 Regardless of what was used, a core filling in the shape of a ball is wrapped with strips of fabric and thread, stitched together and continuously wound until they were so tight that they did actually bounce. Some Temari were made with either rice grains or small pebbles in the center in a small box to create noise, or for luck. The picture to the left is of a young girl playing with a Temari in a recreation scene.
It is a natural progression in the culture of Japan to create aesthetic beauty in every aspect of life, so the transformation of Temari from deer hide ball to decorative and detailed intricate embroidery is a predictable one. Now, Temari are almost exclusively an art form rather than a toy, and the construction of them, while still similar to their origins, has evolved to use more modern materials.
Traditionally, mothers make Temari balls for their daughters as a New Year's gift, or they are given as gifts on auspicious occasions. Temari are tokens of happiness, supposedly infused with the artisan's gentle spirits and skillsets. The brilliance of the patterns and threads are symbolic of the wishes sent to the individual, and traditionally encourage happy lives, deep friendship, and loyalty. To become a professional Temari master in Japan, the process is long and arduous, spanning upwards of ten years for all of the certifications administered by the Japan Temari Association in Tokyo.
Temari's beauty lies in its geometry. You thought you wouldn't use it in real life, didn't you! The designs are symmetrical, look complex but are quite simple, and often inspired by nature. Many are similar to a kaleidoscope, although some designs highlight negative space, using very few threads to create incredibly poignant designs. Cultural observation of Temari is also unique. Western cultures will notice Temari as a sphere, divided into upper and lower designs with a band through the middle, while Eastern perspectives look at the designs from the poles of the ball, noting petals and more organic shapes as the primary design structures.
Modern day Temari are made in similar fashion to ancient Temari, although we have some ease of use with modern materials, and we can skip steps, especially for new artisans (like myself!) Temari are made first by making a core ball, or "mari", out of old fabric, rice hulls, styrofoam ball (although these can disintegrate over time, so if you're making a temari as an actual heirloom, i'd use something else) or even small rubber balls. This is then wrapped with layers of fabric, yarn, or thread, carefully wrapped around the center of the ball to make it as round as possible. If your tension is too variant, you will end up with a temari pumpkin, rather than a sphere. Sewing thread is commonly used, and modern temari artists will often use more than one thread at a time to wrap the base of the ball more efficiently.
How are Temari Made?
Temari can be as small as a quarter, or larger than a hand, but generally the ball should fit comfortably in your hands to work. Once the ball is the size you prefer, it's time to mark it out. No strict measurements are used in Temari. Instead, the ball is divided into hemispheres by a ribbon or tape around the middle. Using pins and marking threads, known as "jiwari", the ball is divided into one of three standard divisions. Jiwari are often integrated into the design – so make sure to use a thread that is a complementary color. We don't want a beautiful black and gold ball marred by chartreuse thread!
To be honest, you should use whatever thread makes you happy, although some more traditional designs are more specific in color balance. Some jiwari are similar color to the base thread, in order to minimize distraction from designs. After the mari is completed, marked and threaded, designs are embroidered using a variety of threads. Perle cotton is most widely used in Japan and the West, although silk, rayon, and metallic (gold, silver) threads are also used. Some Temari artists have incorporated ribbon embroidery into their art in more modern expressions. Others have created tassels, hanging macrame-style Temari holders, or braided hangers.
The division of the mari is done by using three main division patterns. The three standard divisions are Simple (Tanjyun toubun), 8-Combination (hattitobun no kumiawase), or 10-combination (Jyuttoubu no kumiawase). These divisions are the only ways that the center and poles of the ball can be evenly distributed with symmetry on the surface of a sphere! (HELLO WEIRD MIDDLE SCHOOL MATH – go home! Just kidding.)
The Temari makers realized the patterns of nature and found ways to reproduce them as artisans. After the "equator" is placed, pins are used to mark the north and south poles,and around the equator ribbon, then thin thread (regular sewing thread) is wrapped around the ball. Each wrap must fully circle the bar, as though it were a different equator – marking a division line. 
Further division may include marking lines, but they are just lines, not division threads. The spaces outlined by these lines are called "mentai". These division lines are the anchors for your embroidery threads, and help keep your patterns symmetrical and tidy.
When starting to stitch Temari, no knots are used, instead, colored threads are stitched through the ball several times to anchor them, and then the threads are stitched across both division lines and into the surface of the mari to create the patterns and designs.
The stitches used in Temari to finally create the pattern come in a wide variety, from interwoven to wrapped designs, and I've become so enamoured of Temari that I'm going to write about them as I try them. Check back periodically for new stitch patterns! In the interim, you can click here for tips and tricks to get started.   
Every single Temari is different, and YOU are the artist. If your ball is pumpkin shaped, chartreuse-threaded, and doesn't bounce – it can still carry the good wishes of your heart to its recipient. Some of the beauty of Temari lies in its simplicity and geometry – but most of it lies in the wishes, deep friendships, loyalty, and dedication that these works of art represent to both the crafter and the recipient.
Why Should I Make Temari?
Temari seems daunting, right? Well, let's break it down – make a ball, wrap the ball, divide it into sections, and then cover the ball in pretty threads! You can do it, I promise. In fact, there are some amazing kits for sale, both on Etsy and from other websites, that will get you started. This kit, sold by Japantemari on Etsy, gets you started with everything you need for $20! You get to choose your flower, chrysanthemum, narcissus, cherry blossoms, or clematis! The instructions for this kit ARE in Japanese, but they are accompanied by a very helpful Youtube video.
BUT WHY THO!? Well, Temari hold something very special. Not every ball has a present inside, but many do. The presents aren't for opening, however, they're for existing as a reminder of the love and loyalty that the person who made it has for the recipient. Some artists write affirmations, love poems, or happy wishes for their recipients.
I'm not saying that you SHOULD write terrible things for people in Temari -but if that's what get's you interested in the art, then who am I to judge what you put inside? Either way, with a little time and effort, you are creating a literal one of a kind heirloom which will, i guarantee, cause exclamations and excitement. I might put tiny dinosaurs in mine. What do you think you would put in your Temari? Leave a comment below! 😀
Modern Alterations – Space for Expression
While Temari are beautiful in their simplicity, geometric consistency, and historical longevity, modern artists are recreating this idea to fit the world today.  Modern Temari artists are stepping away from traditions, and utilizing the repetitive nature of the work to create incredibly intricate patterns, like the one below, from Russian Temari artist, Tatiana Vigdorova.
She not only incorporates strictly geometric designs, but also utilizes an artistic blend of soft images like cherry blossoms with long, straight, unbending lines. She makes room for new color combinations, new patterns and designs, and old traditions in her work.
Other modern Temari artists use more bold color combinations of only black and white, or one of my favorites – a brown base that matches craft paper, covered by threads that mimic wild grasses in greens and yellows. Thinking outside of the flat artistry of images is a difficult task for a crafter or designer, but there is room for you to learn and grow. You do NOT need to be a Temari master to let the world see your beautiful inspiration.
Another artist who has recently been recognized is a 92 year old grandmother named Fusako Aizawa, who learned the skill in her 60s! She has since crafted almost 500 unique designs, which have been photographed by her granddaughter. Now, she teaches others. Her beautiful vision of color and pattern is something that we can all learn – keep in mind, she was in her 60s when she learned this!
Temari!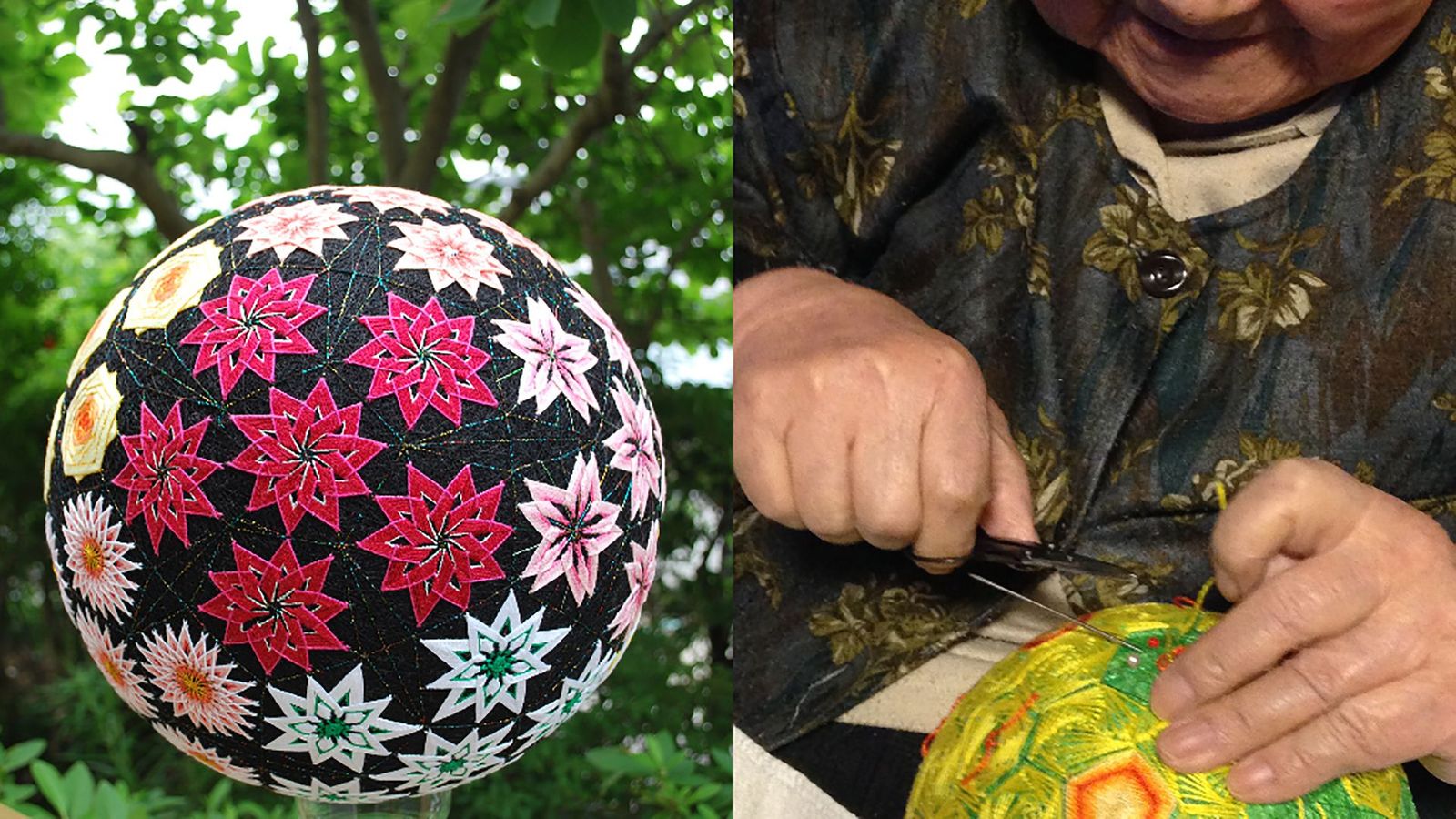 You never thought you'd use geometry like this, but I can tell you that there are some startlingly beautiful things that are the product of truly gorgeous math. Whether or not you're "good at" math, you can create something beautiful that inspires, encourages, and uplifts your dear friends.
If this is your first time encountering Temari – leave a comment below! What is the most beautiful thing about them? What would YOU put inside? How would you make Temari truly YOUR inspiration?