Read Time:
7 Minute, 55 Second
First off – wear a mask!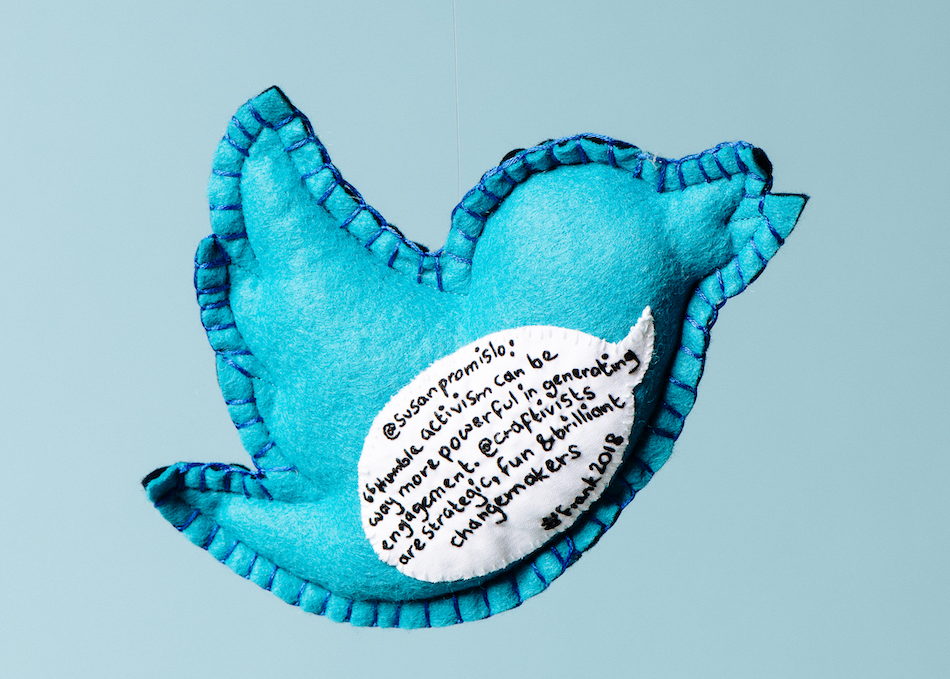 I'm ready for 2021, how about all of you? What a crazy time to be alive – as I'm sure every generation has said at one point or another. I thought pretty long and hard about writing about this year on the website, as I haven't really had time with school and work to pour into my passions here. It's important to consider what this year is doing to us as humans, and ways to mitigate some of our intense feelings, so I wanted to make sure we were all okay out there.  I've written prior to this about crafting as mindfulness, and crafting as therapy and relaxation, and I know that most of us realize its value. Let's talk instead about processing and being present in our communities through craft. This can be a pretty raw thing to talk about, so I'll encourage you to be open minded and kind. Below you'll see MY opinions, only mine – and those whose work I may show. You'll also find more thready-type things here, since, well, that's what the site is about, but don't limit yourself!
THE most important thing I can share with you is this:
If you receive pushback about something you've crafted, your reaction might be stronger than you think. Your investment into your message of time and skill reiterates it deeply, so make sure to give yourself grace. It can feel much more like a personal attack when someone attacks a message that you've spent pieces of yourself making. Whatever the message is – know that someone may disagree – sometimes aggressively – and be prepared for your own potential reactions.
Politicrafting!
We'll just rip the band-aid right off. Politics in the last four years have been rife with divisiveness and snark, and a general loss of tolerance for other people.
As a result, emotions are high, and people struggle with how to contain them, often relaying their opinions in ever-heightened conversations on the social media platforms. I'm here to promote another way – politicrafting! I have no idea if that's a word, but if it isn't, I'm gonna just go ahead and trademark or copyright that.
Whatever side of the aisle you fall on – politics lends itself to the jesters in our society in hilarious and often beautiful ways. Not only are crafters putting knitting on statues as statements, but snarky political embroidery can be found from Etsy to Amazon. Much like the phenomenon of "Pink Pussy Hats", crafters gather together around both ideas and skill sets to promote whatever their ideology may be. I encourage you to think about expressing your ideas via craft works instead of on social media. If nothing else – it requires you to sit with your ideology for a long time while you finish the project, and you may find that constant exposure to that idea prompts you to consider its value.
Carrie Reichardt is a self-styled craftivist, and great example of politicrafting, who is using her mosaics to start conversations about sensitive subjects, including death row. Click on her picture to learn more about ways of being craftivisty, and how she responds to difficult dialogue around her work.
Religicrafting!
Second band aid – let's go! Also, second copyright or trademark. I'm still pretty confused at which one is used for which situation, so if someone has some clarity, please let me know in the comments! Religion in the US has been a talking point for political resistance…forever.  Right now it's a hot topic, because it is causing controversy in our responses to COVID. SO – again, here's a way to get your messages out in non-social media form, and in ways that require you to sit with the idea long enough to really think about it.
Craftivism has a huge following now, and a great example of religicrafting is the Craftivist Collectives' push for gentle protests. Run by a person who identifies as a Christian, the Craftivist Collective promote a "more beautiful, kind, and fair" activism for a more "beautiful, kind, and fair world". While I may not agree with everything here – this is a very valuable way for people who have never protested or become involved with activism to do so within comfort levels they feel are appropriate.  It does not require you to hold a sign in the streets, but you can still feel very much like you are working towards a world that most major religions seem to think is a better way of living than what we have now. Complete with a "Craftivist Manifesto" , you may find yourself inspired!
You'll also find that religicrafting is one of the more common ways to get thematic messages across – even if you're not a religious person. You can tap into this genre for strong themes that you can then use however you want – snarkily, worshipfully, or encouraging. I'm always a fan of snark, but that's my own personal dealio.
I would caution you, like all of these subjects – if you make your crafting public, be prepared for pushback. Not everyone will share your message, and that's the individuality of us all.  Just remember that if you put it out there- be prepared for anything!
Resisticrafting!
So, some may plop this in the politicrafting bucket, but I'm gonna call this one out for different reasons. Resistance can be political, but for some, resistance means survival. We see protests happening all over – most notably Portland, but also Kansas City, Detroit, Chicago, Minneapolis. Resisticrafting is less focused on political overview themes, and more on the people affected by political movements. Often, resistance is more fraught with anecdotal stories, personal investments, and emotional complexities, but it's worth being a part of if you're passionate about serving the marginalized.
For example, you could resisticraft against city council decisions that limit mental health provision for the homeless, or in support of Black Lives Matter. Either way, make your voice heard using your skillset! I will say that if you're resisticrafting – be prepared for pushback, and to learn about how messages are perceived. Resistance is an active action against the status quo – so get ready! We have freedom here in the States to be able to resist in a myriad of ways – but I still encourage people to really know what they're standing for when they make it a public statement. If you have no idea where to start – take a peek at this book. It's brilliant, and has a ton of ideas meant for inspiration.

Perhaps one of the best examples of resisticrafting is something that is also very sensitive, so I will do my best to do it justice. The We Care Quilt was crafted by both indigenous and non-indigenous persons to bring awareness and take a stand against violence to indigenous women, girls, and two spirit persons. The quilt is a collaborative effort, with many squares from many places creating a beautiful work of art. It is now displayed publicly as a constant reminder of the atrocities that are committed against indigenous women.
Humanicrafting!
I saved this for last because it's my favorite. Humanicrafting (I'm pretty dang sure these are gonna be my new headlines on the website), is what brought us to the idea of crafts and art in the first place. We love to learn, and making beautiful things feeds our hearts and minds. Humanicrafting is what we do when there IS a crisis, when there ISN'T a crisis, and when we see someone needs encouragement.
From making wet wipes that take away tear gas particles to baking cupcakes and making afghans, humanicrafting focuses on the needs of persons, rather than the needs of the crafter (which are often met during the crafting process). By this, I mean crafting with purpose to serve others rather than oneself. I would guess that most of us are humanicrafters, and our friend circles benefit from our addictions.  Homelessness is a constant presence in our country, and even if you're not crafty – you can help by making up care packages or asking your local shelter if they need blankets, clothes, or assistance.
Humanicrafting, as we move into a seemingly more grassroots and community driven position in this country, is a vital way to build relationship, and ensure community, even across all of our crazy lines. Craft with love, craft with power, and craft with kindness. You can be a powerful voice, be angry for the right reasons, and still make something for someone who believes differently than you do.
Well, what do you think!?
Do you craft with one of these in mind? Will you start? If you're interested in starting to craft, PLEASE, leave a comment. I will be happy to either work with you, or get you connected to an individual or group who can get you started. We are a huge and diverse community, with lots to offer, we crafters, and I encourage you to get involved in your local community for inspiration. Also, what have you crafted with one of these ideologies in mind? Lets see some really beautiful passion in the comments!