Read Time:
8 Minute, 54 Second
Crocheting is so relaxing, and crafting something for someone else or for yourself is comforting and therapeutic. But, how do you move beyond the chain and single crochet? Heck – even double crochet! Well, there are TONS of beautiful, unique, and easy stitches that will take your project to a whole new level with just a little bit of practice! Let's explore 5 easy crochet stitches beyond the single or double crochet!
#1 – Cluster Stitch – Baby Blanket Secret Weapon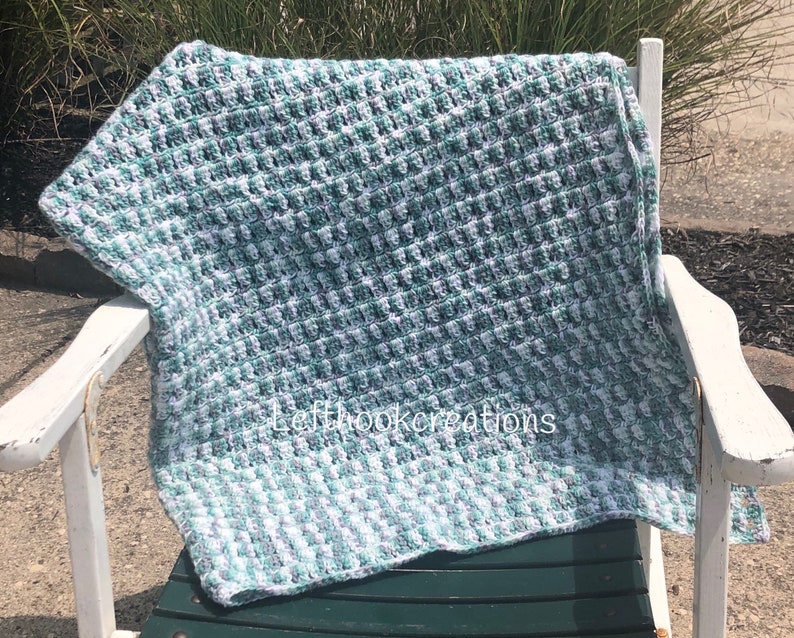 So you want to make something pretty, useable, and easy? Why not a baby blanket? A quick Google search will turn up MILLIONS of patterns, stitches, and overwhelming attempts to be unique in the baby blanket department. Despite all of this amazing inspiration – I like to stick to something that I know works, and works well: the Cluster Stitch.
I found this as a free pattern on a Bernat Baby site, and I will share it with you – just click the picture with the pink bear for the instructions!
If you can double crochet and single crochet, you can do the cluster stitch.
On a foundation chain of single crochet, chain four, and yarn over the hook. Skip one single crochet, then go into the next stitch. You'll be stitching every other single crochet – so if you pay attention and notice that you have two clusters next to each other, you'll need to fix it.
Grab the yarn and pull it through, leaving three loops. Grab the yarn and only pull it through two loops. You should have two loops on the hook – and a normal double crochet would pull through these last two. We're going to leave them.
Yarn over again, and go back into that same stitch, and pull the yarn through. Then, pull the yarn only through the first two loops on the hook. You will have three loops on, then yarn over, and go back into that stitch one last time.
Pull the yarn through, then pull through the first two loops. You'll be left with FOUR loops on your hook. Yarn over, and pull through all four loops, then make one chain stitch to bring it all together. TA DA!
Cluster stitch! Couple this with single crochet rows and you've got a baby blanket that is simple, beautiful, and useable – and a new mama won't be afraid to wash it!
Here is a great YouTube video if you're like me and need to watch someone doing it!
#2 – Seed Stitch – Watch Your Gifts Grow!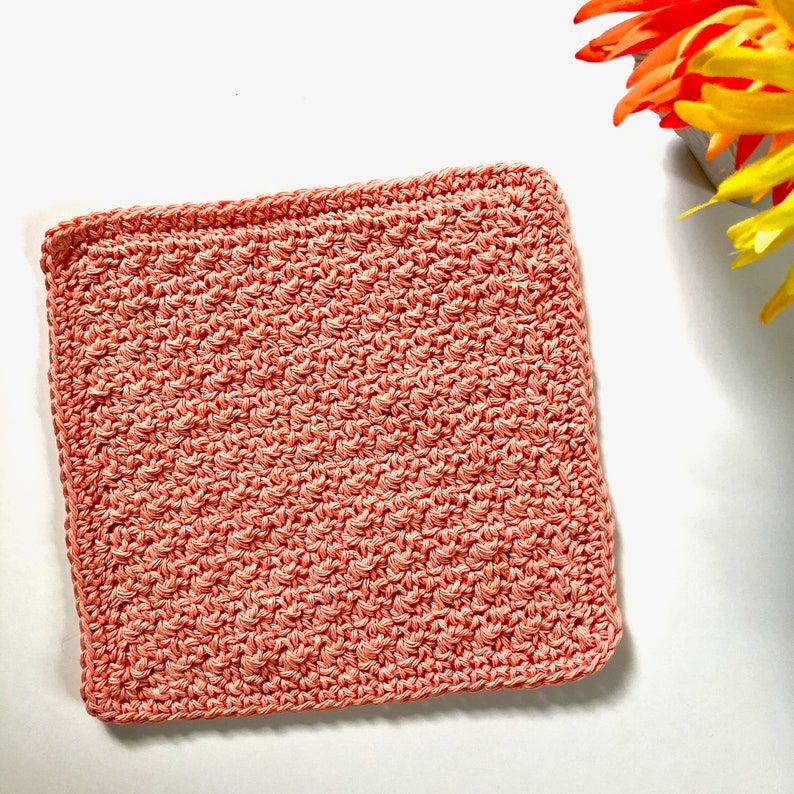 Wow, that title is AWFUL. I think I'll keep it. 🙂
The seed stitch is a super easy, yet versatile and beautiful pattern. It is an alternating stitch, using both single and double crochet. There is a gorgeous, fast, and easy beanie pattern from All About Ami here:
Start with a chain, then turn, and single crochet in the second chain from the hook.
Double crochet in the next stitch.
Single crochet in the next stitch.
Repeat the above until the end of the row – and voila! Seed stitch!
SUPER DUPER IMPORTANT FOR STRAIGHT EDGES: If you ended in a double crochet, then turn, and single crochet in the first stitch. If you ended in a single crochet, then turn, slip stitch in the first stitch, chain 2 (takes the place of the first double crochet), and then single crochet in the next stitch.
This method of alternating keeps the sides of your project even – and keeps the dreaded edge slant creep from happening. Seed stitch is fabulous for baby blankets, afghans, or scarves. I know that I said we were moving away from double/single crochet, but this is how crochet rolls. It's all about combining and finding new ways to make patterns!
#3 – Puff Stitch – Dreamy Textures!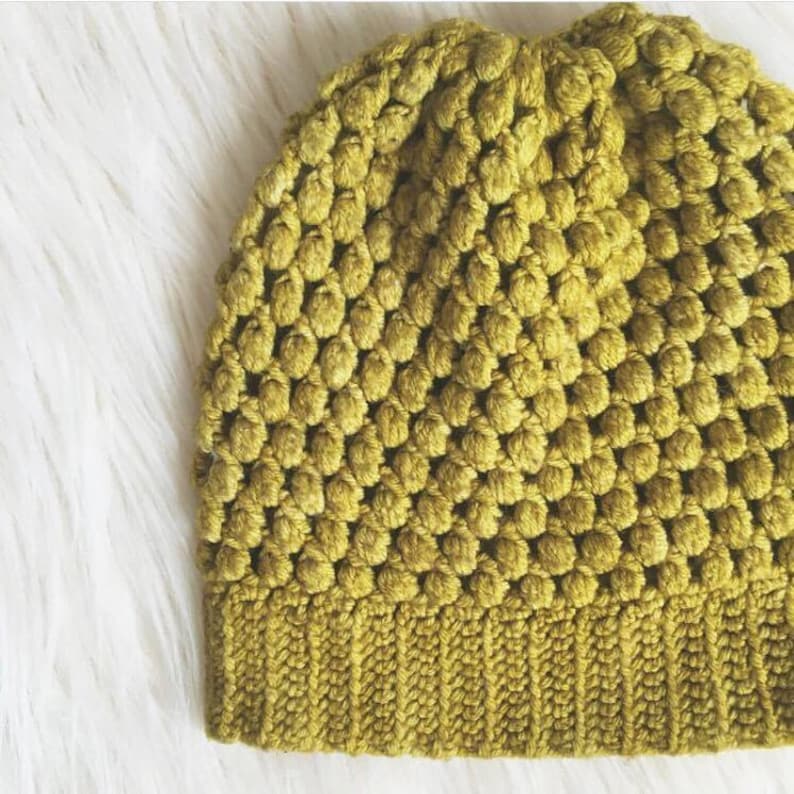 Puff stitch is an easy way to add texture and interest to your work, without fussing with lacy stitches. It's so easy to work, and fits well into almost any pattern. Pair with seed stitch for an amazing scarf for gifting! Making a hat like the one from the pattern here is fast and easy. You can make a new hat in a day! The Hook Nook also has an Instagram where you can watch videos and learn more about the different stitches offered in their patterns.
Puff stitch is very similar to cluster stitch, but because we use nine loops – it gently puffs itself into an oval shape.
Yarn over, insert your hook into the stitch, yarn over and pull up a loop.
Tip: Pull your loop so it is even with the other stitches on your crochet hook.
Yarn over again, insert your hook into the same stitch, yarn over, and pull up another loop.
Repeat this until you have nine loops on your crochet hook. Yarn over, and pull your yarn through all nine of the loops.
Chain one to secure the stitch, and continue with your stitches.
#4 – Basic Crochet V Stitch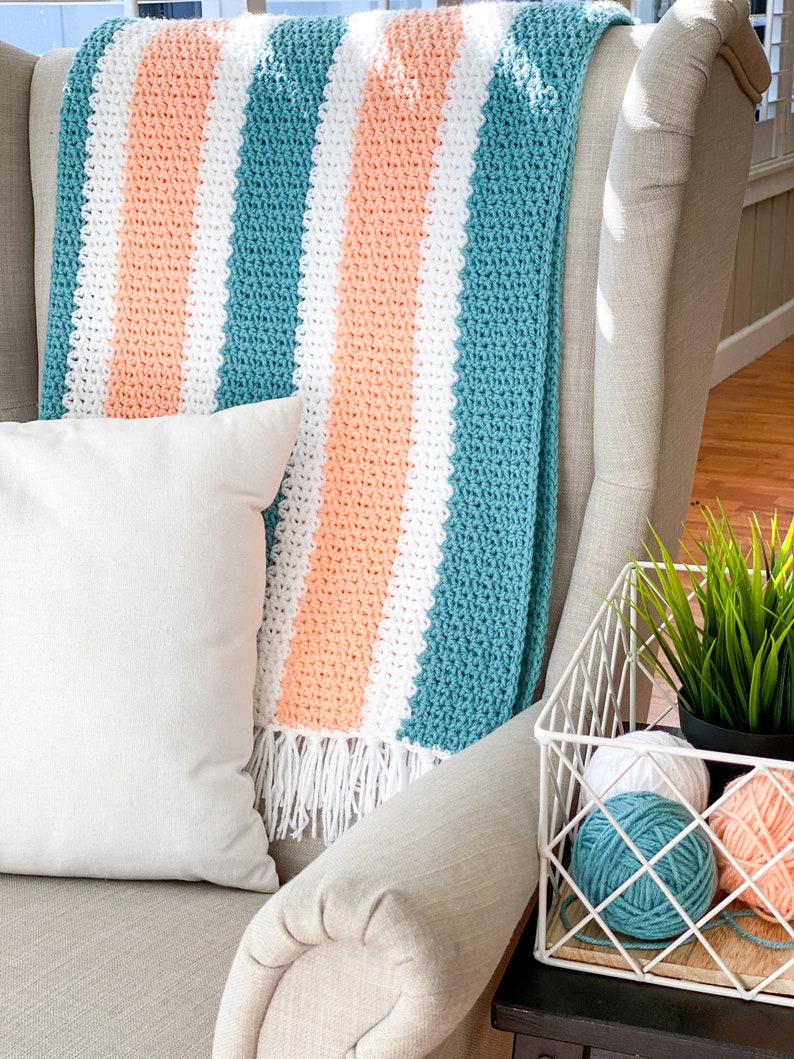 If you're looking for a lacy, lovely look (alliteration, don't fail me now!), the "V" stitch is for you! It's so, SO simple, yet the fabric it creates is stunning. It works up quickly, making it a go-to for afghans or larger projects.  The V stitch itself is simple, double crochet, chain, double crochet all worked in the same stitch! Look below for more in-depth instructions and some gorgeous pictures from thesprucecrafts.com, or check out the pattern to the left from brilliant designer Daisy Cottage Designs.
For the V stitch, start with a chain that is a multiple of 3, plus seven more stitches. (For example, chain 72, then add 7, for a total of 79 chain stitches). This is your foundation chain.
Double crochet in the fourth chain stitch from the hook. The previous three chains count as the first double crochet in the row. Chain one, skip the next chain stitch, [double crochet in next chain, chain one, double crochet in the same chain. Skip the next two chains.]  Repeat the bracketed instructions until the end of the row.
At the end of the row, chain one, skip two chains, then double crochet in each of the last two chain stitches.
Chain three, and turn your work.
The turning chain counts as the first double crochet in the row, so double crochet in the next chain to match the row below. Then, chain one, and work the V stitch across the row as you did in the first row. Then, chain one, skip the next chain, and double crochet in each of the last two stitches.
Repeat until you reach your desired length, then tie off and weave in your ends. Awesome!
#5 – The Crocodile Stitch
Well, I promised easy – but most of crochet is easy after you practice it for awhile, right?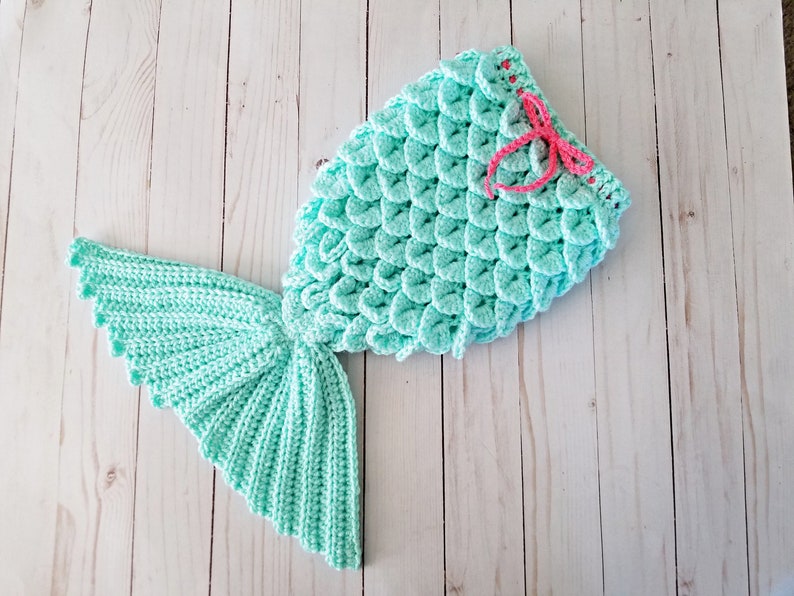 Let's talk about the Crocodile Stitch. You've seen those beautiful mermaid tails all over the internet, and you know you want to try one. Well, I have some options for you! Check out this beautiful BABY MERMAID TAIL (omg!) by HookedStrandsCrochet on Etsy, and you'll be making tiny tails for all of the babies in your life!
Crocodile stitch requires a bit of turning the work, but after a few, you'll have the repetition down pat. The stitch creates its texture by working around the posts of the stitches in the row you just finished. Don't worry – even if you're a new crocheter, you can learn this!
First, crochet a chain with a multiple of 10, plus one. So, if you're practicing the stitch, chain 31. Work 2 dc in the sixth chain from the hook, which will count as the first set of (1 dc, space, 2 dc). Skip two chains, dc in next stitch. Skip two chains, 2dc in next stitch. Complete the row repeating this pattern. You will end with 2 dc in the last stitch of your foundation row. This will give you a row of 2 dc alternated with 1 dc, with spaces in the middle.
Chain one, turn.
Skip the first dc (the last dc of the previous row), and work 5 bpdc (back post double crochet) around the post of the second double crochet in the row. These are worked from the top down, so that the second bpdc is worked around the same post directly below the first bpdc. You are creating a sideways crochet scale, worked into the fabric. Your first five stitches are the first half of the scale.
Next, create 5 dc post stitches around the next dc post in your row working from bottom to top. Your first scale is done! Slip stitch into the next dc, to secure the scale to the row.
Repeat steps one and two until you reach the end of the row. You will not end on a slip stitch – but on a scale. Don't panic!
Chain one, turn, and slip stitch into the center of the scale at the end of the row. Chain 4, and you're ready to crochet your posts again! Work 2 dc into the next slip stitch. Keep in mind that your dc stitches will alternate with the row below. Chain one, then work a dc into the center of the next scale. Chain 2, then 2 dc into the next slip stitch. Work this pattern across the row – keeping in mind that you should be only crocheting ONE dc into the center of the scales. If you find your count is off, this can be helpful. End with 2dc in last stitch.
Now, you have finished the setup for your next set of scales, and you can repeat steps 1-3 until the stitch rhythm clicks. If you have questions, please reach out, and I've included a tutorial video below for those of us who are visual learners too.
Don't worry – I've got your back, and the world is full of crafters willing to share their knowledge. What is YOUR favorite stitch in crochet, and what have you made with it? I'd love to hear it in the comments below, and please remember to be patient with yourself as you learn new crafts! The journey is just as important as the finished product!